The extremely compact and ultra-slim design of Olympus LI-50B rechargeable Lithium-ion battery makes storage and transportation very convenient.
Replacement for Olympus LI-50B Battery – Olympus LI-50B Rechargeable Lithium-ion Battery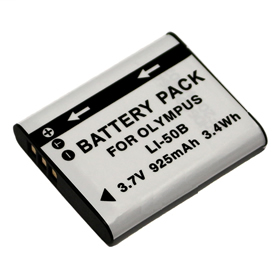 Work with:
Olympus LI-50B
Battery Type:
Lithium-ion
Voltage:
3.7V
Capacity:
925mAh
Accessories:
LI-50C Battery Charger
Condition:
1 year warranty! 30% off!
Related Website:
Olympus LI-50B Battery Description:
Keeping a spare Olympus LI-50B battery on hand ensures that you will always be ready to capture the images you want most. The Olympus Lithium-ion rechargeable digital camera battery LI-50B delivers outstanding capacity and charges up to 300 times in three hours or less!

With a capacity of 925mAh, the Lithium-ion battery allows hundreds of images to be shot before the Olympus LI-50B battery needs to be recharged. The Olympus LI-50B Lithium-ion battery is the main power supply of many Olympus digital camera models: Stylus Tough-6010/µ Tough-6010, Stylus Tough-8000/µ Tough-8000, Stylus Tough-8010/µ Tough-8010, SP-800UZ.

Features:
- The Lithium-ion rechargeable battery ensures maximum battery life and maximum power
- Olympus LI-50B battery features no memory effect that lets you recharge partially drained batteries without reducing performance.
- 100% compatible with OEM battery.
- 1 year warranty!
Buy Olympus LI-50B Battery and Olympus LI-50C Charger together Save US $3 !
+
Olympus LI-50C Charger
Conveniently charge all your Olympus LI-50B Lithium-ion digital camera batteries at home or on the road with the Olympus Car battery charger LI-50C.
Olympus LI-50B Compatible Battery Codes:
Olympus LI-50B battery
Olympus LI-50B Battery Fits Camera Models:
Olympus D-750
Olympus D-755
Olympus D-760
Olympus mju 1010
Olympus mju 1020
Olympus mju 1030 SW
Olympus mju 9000
Olympus mju 9010
Olympus mju Tough 6000
Olympus mju Tough 6010
Olympus mju Tough 6020
Olympus mju Tough 8000
Olympus mju Tough 8010
Olympus SH-21
Olympus SH-25MR
Olympus SP-720UZ
Olympus SP-800UZ
Olympus SP-810UZ
Olympus Stylus 1030 SW
Olympus Stylus D-755
Olympus Stylus SH-60
Olympus Stylus SZ-15
Olympus Stylus SZ-16
Olympus Stylus SZ-17
Olympus Stylus Tough 6010
Olympus Stylus Tough 6020
Olympus Stylus Tough 8000
Olympus Stylus Tough 8010
Olympus Stylus Tough TG-630
Olympus Stylus Tough TG-830
Olympus Stylus Tough TG-830
Olympus Stylus Tough TG-830 iHS
Olympus Stylus Tough TG-835
Olympus Stylus Tough TG-850
Olympus Stylus Tough TG-860
Olympus Stylus Tough TG-870
Olympus Stylus VH-520
Olympus Stylus XZ-10
Olympus SZ-10
Olympus SZ-11
Olympus SZ-12
Olympus SZ-14
Olympus SZ-20
Olympus SZ-30MR
Olympus SZ-31MR
Olympus SZ-31MR iHS
Olympus Tough TG-610
Olympus Tough TG-620
Olympus Tough TG-805
Olympus Tough TG-810
Olympus Tough TG-820
Olympus Tough TG-820 iHS
Olympus VG-170
Olympus VH-410
Olympus VH-510
Olympus VR-170
Olympus VR-350
Olympus VR-360
Olympus XZ-1